Copyright (c) 2000 Eve Berliner, All Rights Reserved.

On the Wings of Darryl Strawberry
By Eve Berliner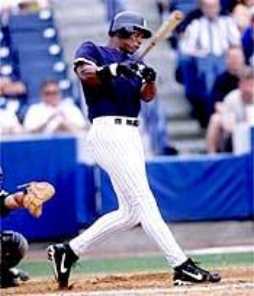 Darryl Strawberry, with the grace of a gazelle, doe-eyed, long legged metaphor of summer, the swing so sweet, the power so audacious, the rogue prince so beautiful an incarnation.
He knew the consequences would destroy him, the treacherous desires.
There in the clutch for everyone but himself.
Darryl Strawberry, the sisyphean man laboring to push the heavy boulder to the top of the hill only to have it crash down in another senseless debacle; and the eternal struggle begins anew, the uphill battle to be fought again, the protagonist conquered by the force of his own inner demons.
Darryl Darryl Darryl the chanting of the crowd as he emerges from the clubhouse and bows gently after turbocharging a homerun to the stars.
He is New York City's wild child. We bred him, we shared in his glory, his drama. Our 1986 World Champion New York Mets! Our victorious New York Yankees and the lingering memory of their triumphant 1999 World Series victory parade through Wall Street's wildly frenetic canyons, culminating in Darryl sobbing on the steps of City Hall overcome with emotion for those who loved him, stood by him, when cancer stalked his life and cocaine took his brains.
We were there when he was Rookie of the Year and we were there when he fell from grace.
We are there for him now, the people of New York City, rooting for him.
* * *
He comes out of the Crenshaw district of Los Angeles, California. His father Henry Strawberry, who had once played semi pro baseball, left the family when Darryl was 13 years of age but gave to his son an athletic fire and an unconscious motivation to fulfill the paternal dream.
Brooding and vulnerable, Darryl was an adolescent with an angry edge.
His mother Ruby was the dominant force, raising her five children in a singlehanded effort and instilling in her brood a deep faith in God.
It was John Moseley, a neighbor to the Strawberrys, who sensed the electricity in Darryl and became for him a kind of surrogate father. Moseley was an assistant baseball coach at Compton College. Darryl had found himself a coach.
"Mr. Moseley taught me everything I know about the game," Darryl commented in a 1981 Sports Illustrated interview.
"I heard it first from him."
Surrogate father number two was Brooks Hurst, baseball coach at Crenshaw High School who benched Strawberry for lack of effort for most of his sophomore season. "The best thing that happened to me", Strawberry would comment.
Darryl had a .371 batting average and hit 4 home runs in his junior year. As a senior he batted .400, and had 5 home runs, eighteen runs-batted in, and, on the mound (played right field and pitched) had a 4-1 record.
With his immense power at the plate, his strong left arm in the field, his speed around the bases and lightning reflexes, he became the most sought after school kid baseball player in the country.
"He was so skinny he was almost frail," recalled Harry Minor, the scout for the New York Mets [Inside Sports,March 1984]. "He was gangly and crude but one look at him and you knew he was an athlete. He moved like an athlete. It was just a matter of time."
Darryl Strawberry became the overall number-one pick in the 1980 free-agent draft. He signed with the New York Mets for $600 a month and a $200,000 bonus, the largest signing bonus in the major leagues in twenty years.
By the end of his second year in the minor leagues, Darryl Strawberry would be named the Texas League's Most Valuable Player in a season in which he hit 34 homeruns and had a slugging percentage of .602. He was on a pinnacle.
It was the beginning of a stellar career:
1983 National League Rookie of the Year
1988 National League Home Run Champion
Four World Series Championship rings starting with the amazing New York Mets in 1986 and culminating with the great New York Yankees in 1996, 1998 and 1999.
Selected for the National League All-Star Team in eight consecutive seasons, 1984-1992.
* * *
The history behind him, a haunted man on a harrowing roller coaster ride to the abyss.
The inner rage that broke his first wife's nose in 1986.
1990, the demon alcohol drives him into Smithers Center in New York City for an attempt at rehabilitation and renewal.
1993, arrested for an assault upon future wife Charisse.
1994, investigated by the Internal Revenue Service and United States Attorney's Office for failing to file income tax returns, indicted on federal tax evasion charges.
He enters Betty Ford Clinic after revelations of cocaine abuse.
1995, suspended by Major League Baseball for 60 days after he tests positive for cocaine in violation of the provisions of his drug aftercare program.
Charged with failure to make child support payments.
Ordered to repay $350,000 in back taxes to the United States Government.
And then 1998, in the midst of the Yankee playoff season, Strawberry confronts the shock of diagnosis and surgery to remove a cancerous mass from his colon. A winter of terror, chemotherapy and self-searching.
Then the stunning news of his April 14th, 1999 arrest in Tampa, Florida on charges of cocaine possession and solicitation, to which Strawberry pleads no contest. Suspended from baseball for 120 days, Commissioner Bud Selig reinstates Strawberry for an early return to baseball on September 1 and the feared George Streinbrenner proves he has a heart. Darryl hits with authority.
And so the year 2000 season opens with high hopes at the Yankee spring training camp in Legends Field, and ends in late February with Darryl Strawberry exiled from baseball in the twilight of his career, once again testing positive for the demon cocaine, a one year suspension imposed on the fading 38 year old superstar of summer.
He enters Smithers and quickly checks himself out. There is a brief interlude in Hazeldon Clinic in West Palm Beach, Florida. By early spring he had entered the Sobrenity Clinic in Fort Lauderdale.